Some thirty national and provincial governmental officers were gathered at a Marine Spatial Planning (MSP) Training Workshop from 28th August to 1st September 2023 in Ayutthaya, Thailand.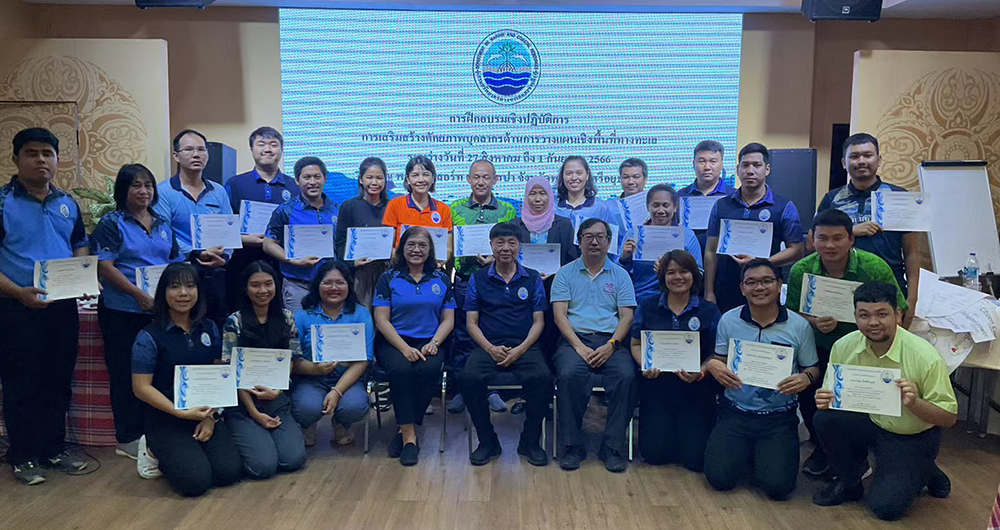 This MSP Training Workshop was jointly organized by the Department of Marine and Coastal Resources, Thailand and the IOC Sub-Commission for the Western Pacific (WESTPAC), as part of effort implementing the UN Ocean Decade Action UN 21 "Accelerate Marine Spatial Planning in the Western Pacific and its Adjacent Area". The workshop aimed to enhance capacity of MSP trainers who are expected to deliver MSP knowledge to a wide range of relevant stakeholders and contribute to Marine Spatial Planning in Thailand. The workshop focused on developing key competencies among trainers that will allow them to be well equipped with MSP knowledge, stakeholders' engagement techniques, and skills to resolve conflicts and for negotiations in public consultation. The simulation of several MSP implementation scenarios were also conducted to encourage all participants to practice skills and techniques they learnt.
The first ever Training for MSP Trainers in Thailand achieved its expected objectives, as concluded by Ms. Sumana Kajornwatthanakul, Director of the Marine and Coastal Resources Research and Development Institute. The ongoing Sub-Commission implemented UN Decade Action on MSP aims to promote and accelerate MSP in the Western Pacific, by developing cooperation, improving the capacity, demonstrating and maximizing the benefit of MSP in Member States in the region. Thus this training for trainees in Thailand is not only beneficial to marine spatial planning in Thailand, but also provided valuable experience for the Sub-Commission to conduct trainings in other countries in the region.